CARNAVAL BRAZILIAN BBQ IS CARVING OUT A WHOLE NEW EXPERIENCE IN DINING FOR WINNIPEG.
Welcome to an authentic Brazilian "Churrascaria", steakhouse that combines the influence of our local ingredients with the traditional Brazilian BBQ.
Turn your place card to green and prepare to be swarmed by a troop of Gauchos (Carvers) generously serving various cuts of seasoned beef, pork, chicken and Brazilian sausage, all accompanied by traditional side items and house-baked Brazilian cheese bread. As you dine endlessly on Brazilian fare, let one of our in-house wine connoisseurs select the perfect pairing from our extensive, International wine list. We feature many exclusive listings & Manitoba's first Brazilian wines. CARNAVAL is all about options. If wine isn't your drink of choice, sip on a freshly-made signature cocktail: the Caipirinha. As dinner winds down, complete your CARNAVAL experience with one of our many decadent dessert selections and aperitifs.
At CARNAVAL we truly wish to give you an authentic Brazilian dining experience while enjoying the beauty of Winnipeg's Waterfront Drive and historic East Exchange.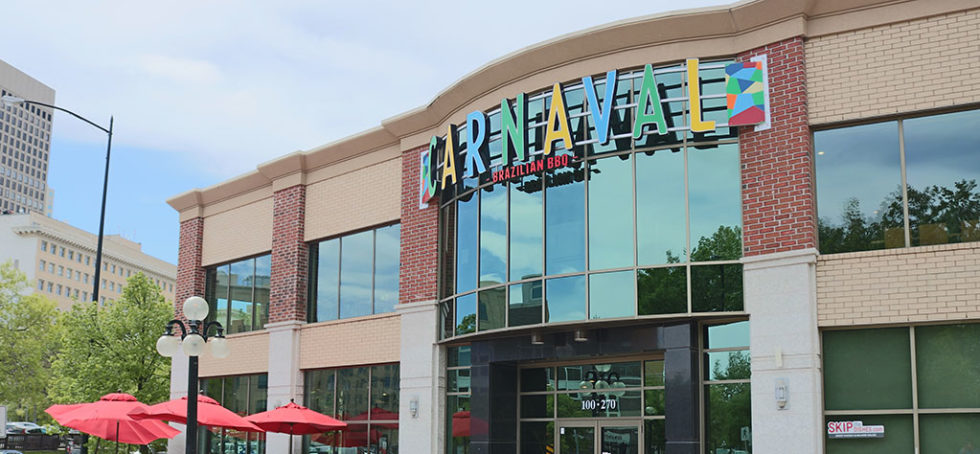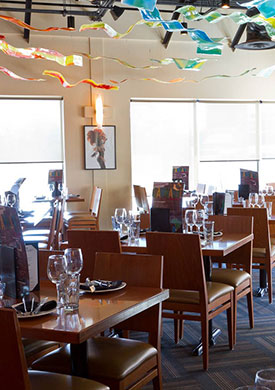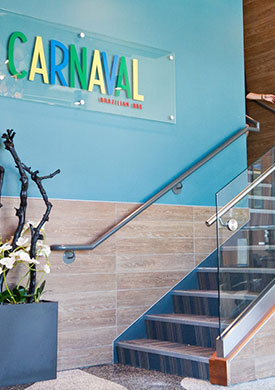 WELCOME
Sit down, relax, and enjoy some of Brazil's favourite cocktails—in particular the Caipirinha—while we explain the Carnaval Brazilian BBQ experience.
FIRST TASTES
Choose from our list of seasonal salads, traditional side dishes and many wonderful flavours to compliment your dinner.
CHOOSE YOUR WINE
The fantastic variety and quality of our meat selections can only be improved by selecting one of our many wines from around the world.
READY, SET, GO!
Turn your card green side up, signalling that you are ready for our Gaucho carvers to begin table side service.
RODIZIO EXPERIENCE
Choose from the 12 or more cuts of delectable fire roasted meats that are brought to you by our Gaucho carvers and served table side. Unlimited cuts of amazing flavors await you as the Gaucho's return at your request!
THE FINALE
Save a bit of room for our delicious desserts paired with one of our after-dinner drinks.